Kenny Largent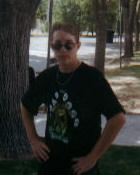 Birthday:
Height:
Weight:
Nickname:
Finisher:
Saying:
Titles Held:
Entrance Music:


4/6/82
5'10"
140 lbs.
DJ Hardcore
Face Driver
That's Right, That's Right
World, Hardcore (2), Tag Team
"Sabotage" by The Beastie Boys

Kenny debuted in the TWO on the very first show, which was "Bash at Jabroni Beach" as Kendawg, one half of the tag team called Dawg Pound. Together with Lumpdawg (now Mr. Popular), they became the first ever Tag Team Champions. Their team wouldn't last long though, and soon led to a break up with Kendawg soon changing his name to DJ Hardcore, which he has kept ever since.